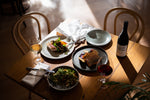 The Summer Series is a transitional concept – a fresh and exciting summertime offering as a celebration of the ending of Victorian lockdowns.
The menu will change monthly, and each menu will embark on a different journey, showcasing exceptional, seasonal produce in courses designed by Soren and his team to invoke a nostalgic sense of memory, time, and place.
Dishes will be delivered to your table by our team of chefs, who will regale our guests with anecdotes and stories about the produce and creative process behind each inspiration. 
Wines, past and present, will be matched by our winemaking team, Chief Winemaker Dylan McMahon and Winemaker Jarrod Johnson, to guide you through all things Seville Estate.
Date: Starting from Sat Nov 13th 2021
Time: Friday lunch, Saturday lunch & dinner and Sunday lunch
Price: $170+ per person for food only, $210 per person for food + wine. Wines by bottle and glass also available. 
Bookings: Book online or call (03) 5964 2622