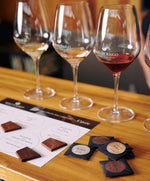 This Easter, book in to Boat O'Craigo for a sensory experience like no other.
Professionally matched by Cuvee Chocolate and Boat O'Craigo wines, we have put together 5 wine and chocolate combos to make your senses come alive.
A match can be complementary or contrasting. Like a dry rosé, contrasted by the sweet creaminess of a caramelised milk chocolate, accentuating its floral fruity notes.
Or perhaps a savoury and tannic Cabernet complemented by hints of red fruit and roasted coffee in an African origin chocolate. Highlighting it's texture and body.
Let us guide you on journey of exploring your taste buds, one wine and one bit of chocolate at a time.
When:
Every hour on the hour Easter Saturday, Sunday and Monday
Price: 
$20 per person. 
Bookings/purchase: info@boatocraigo.com.au