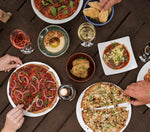 Brumfield is a boutique, family-run winery located on the red volcanic soils of Seville in the Upper Yarra, where David and Anda Crothers make small-batch wines from their estate-grown vines.

In addition to a working winery, they also have a family-run microbrewery and sourdough bakery. 

The family is proud of all their products being handcrafted and produced with as many local ingredients where ever possible. Such a dedicated approach to farming provides the highest quality products that are truly artisan and offers you a first-hand experience from farm to bottle.
Bring your mates, dates and furry friends down to Brumfield on Friday's from 3pm – 7pm to wind down from the week that was. ⁠
⁠
The family has got all your favourite Brumfield wines and SLAQ beers on ice, and the kitchen is ready to dish up its homemade flatbreads, jalapeno poppers, cheese plates and more. ⁠