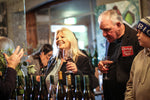 Coinciding with the shortest weekend of the year - the Winter Solstice - on the 17th and 18th of June, the Shortest Lunch is back for its 22nd birthday in 2023.

Join us on a roving gastronomical adventure across our member wineries, experiencing over 80 tastings and moreish entree-sized meals.
More details to come!