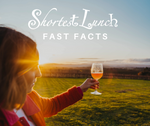 Here are a few quick facts about Shortest Lunch 2023 so you can simply arrive, savour your wine, dance away, and create cherished moments with your loved ones.
When you arrive at your first winery, get your ticket scanned to receive your wristband and souvenir tasting glass:

- This will be scanned once and you will be given a PURPLE wristband if you have the weekend/Sunday ticket, or an ORANGE wristband for a single Saturday ticket.
- You need to bring your wristband and glass along with you the whole day/weekend - no wristband or glass, no tasting!
- If you lose or misplace your tasting glass, there will be a small fee to replace the glass.

Bookings & culinary offerings: 

- Bookings aren't necessary over the weekend, simply plan the wineries you wish to attend in advance, show your wristband and glass and enjoy!
- Each winery has a special menu on offer over the weekend with prices all being under $20.
- The Shortest Lunch menu from each winery can be found here. 
Kids, dogs & designated drivers: 
- A friendly reminder that kids, designated drivers and non-drinkers receive free entry to the event! 
- It is a family-friendly event, with most wineries offering dedicated kid-friendly meals. 
- Dogs are welcome at several of the participating wineries, including Boat O'Craigo, Fin Wines, Steels Gate, Sutherland Estate, Tokar Estate and Yering Farm. 
Winery opening and closing times: 
All wineries will open at 11am and close at 5pm over the weekend. 
A reminder to check-in-to-win!
Check in to 3 or more wineries (posters will be at every winery) for your chance to win a mixed-six case of wine from our member wineries!
If you are unable to attend:
You may transfer your ticket to a friend or family member if it has not been checked in.
Remember to tag us! 
#shortestlunch and @yv_smallerwineries on social media so we can share your photos
Grab your favourite wines online:
Remember you can also shop our wines online after the event if you forget to purchase something on the day.