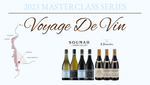 Whether you're a budding sommelier or just enjoy sipping on a good drop with friends, understanding French wines can add a touch of sophistication to your drinking game.
So why not embark on a journey of discovering the hidden gems of northern Rhone?
Join SOUMAH in the Premium Wine Tasting Room for the Voyage de Vin Masterclass on Sunday 19 March at 3pm.
For $30 per person, you will taste seven iconic French varietals, including:
Viognier
2021 SOUMAH Single Vineyard Viognier
2021 SOUMAH Equilibrio Viognier
Syrah
2021 SOUMAH Single Vineyard Syrah
2019 SOUMAH Equilibrio Syrah
Northern Rhône Reds
2019 J. Denuziere Côtes du Rhône
2020 J. Denuziere Crozes-Hermitage
2019 J. Denuziere Côte-Rôtie
If you feel like making a day out of it, be sure to book lunch at Ai Fiori beforehand and try some of our new menu additions – including the Slow Cooked Beef Ragu served on Pappardelle or Spanish Mackerel with Baked Potato Gratin, Roasted Garlic, Sautéed Zucchini, Spinach and Olives.
Bookings for the Masterclass cannot be made online.
Email us at sales@soumah.com.au or call us on 03 5962 4716 to book.