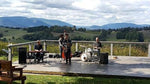 Summer Jazz Sunday has retuned to Seville Hill, their first event this year was February 19 and there was a great turnout of about 80 people, some old faces and a lot of new ones. Come along and enjoy a relaxing Sunday afternoon on the terraced lawn under the beautiful large Elms with breathtaking views of the Warburton Ranges while you sit back and listen to Chris and his band.
Cheese platters and panini rolls will be available on the day.
1:00PM - 4:30PM March 19th, 2023. 
Bookings are advisable and can be made by emailing john@sevillehill.com.au or call 0419284643
There are a few picnic tables on the lawn and you are welcome to bring a picnic blanket, chairs or sit on the grass.
NO BYO FOOD OR ALCOHOL
For a limited time only get a 35% discount for purchases of $300 and over! Use code word JAZZ at checkout when you shop our wines at https://www.sevillehill.com.au/shop