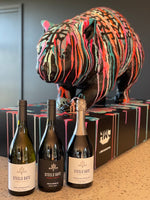 We are excited and delighted to invite you to this one off opportunity to dine alongside renowned artist Hone Rhind and owners / vigneron's Matthew and Brad in an event that brings awareness to mange management.
"Mange Managements mission is saving wombats with mange from a slow painful death by providing free treatment kits to landowners in Victoria. Raising awareness to the magnitude of the problem of mange in this iconic native animal. Preventing further loss of wombat population already under threat from loss of habitat and road deaths."
This intimate 4 course dinner with matching wines provides guests with privileged access to one of the most amazing artists, where you will be able to discuss his work in-depth, learn about Mange Management and help support a good cause, as well as discuss all things wine with owners Matthew and Brad.
Matthew and Brad will be donating $30 from every experience purchased and Hone Rhind will be donating a % of all sales made from any art sold to Mange Management (https://mangemanagement.org.au)
Art, Wine & Wombats…. You are in for a treat!!!
EVENT – Saturday Nov 12th 6pm – 9.30pm
INCLUDES – 4 course dinner & matching wines
BOOKINGS - https://steelsgate.com.au/shop/experiences/in-person/art-wine-wombats/ 
HONE RHIND// HWJ – BIO
Stemming from an interest in indigenous cultures as well as his own Maori heritage, HWJ's work is strongly influenced by these forms of mark making, patterns and traditional artwork. As a result, it is often referred to as abstract symbolism or hieroglyphics. With a basis in geometry, HWJ creates a unique set of shape combinations to build his own visual language formed from bold brush strokes and minimalist colour themes.
Working out of the Artshole studio in Caulfield South, his current creative practices include painting for private commissions, group and collaborative exhibitions, murals, graphic design, illustration, animation, and video production. He expresses these through a wide range of subject matter and techniques including geometric designs, typography, traditional realism, landscapes, and architectural structures.
HWJ is a Melbourne–based multi-disciplinary artist, designer and illustrator originating from West Gippsland, Victoria. His work has appeared in the streets and galleries of London and New York as well as across Australia.